In my Talking Food series I'll be featuring short interviews with authors, chefs, cooks, historians and food writers about their experiences of food, from memories to favourite recipes.
Today, I'd like to introduce as my guest author Lucy Hounsom. Lucy is the author of The Worldmaker Trilogy. Her first book, STARBORN, was shortlisted in the 2016 Gemmell Awards for Best Fantasy Debut. Her fourth book, SISTERSONG, will be published by Pan Macmillan in 2021. She is a Waterstones bookseller and co-hosts the award-winning geek feminist podcast 'Breaking the Glass Slipper', which last weekend won Best Audio at the British Fantasy Awards 2019. She lives half the time in Devon with two cats and the other half in Skyrim.
And for people who don't know… she is also my older sister. 🙂
LM: Hello, err, Lucy. (I won't share our ridiculous nicknames for each other here). Let's get started: what are some of your favourite examples of food in fiction?
Lucy: Definitely the descriptions of fruit in Christina Rossetti's Goblin Market. They're so luscious and visceral; I especially love the way she dwells on each fruit in its turn:
Plump unpeck'd cherries,
Melons and raspberries,
Bloom-down-cheek'd peaches,
Swart-headed mulberries,
Wild free-born cranberries,
Crab-apples, dewberries,
Pine-apples, blackberries,
Apricots, strawberries;—
All ripe together
In summer weather,—
Morns that pass by,
Fair eves that fly;
Come buy, come buy…
– Christina Rossetti, Goblin Market (1859)
Another all time favourite has to be from Harry Potter and the Prisoner of Azkaban, when Harry is found on the Knight Bus and taken to The Leaky Cauldron. Cornelius Fudge sits him down in front of the fire with an enormous platter of hot, buttered crumpets. Every time I read the passage, I have this unreasonable fear that Fudge will devour all of the crumpets before Harry can even take one; I always want to yell at him to stop talking and start eating!
LM: Well, now I want crumpets. Can you share some of your strongest food memories, pleasant or otherwise?
Lucy: An unpleasant memory is undoubtedly the time I stuck my fork into a chicken kiev and it exploded boiling garlic butter all over me. I must have been about ten at the time, and I remember the exact top I was wearing. Even though it was washed, it forever after smelt of garlic…
A much better memory is from when we were younger, just about old enough to use the oven on our own. We used to sneak Linda McCartney pies from the freezer and cook them in the afternoon while Mum was at work, completely ruining our dinner. She must have noticed that they always went missing, but never said anything. After a few years we lost interest, partly because I'm sure they reduced the salt content… or perhaps it was just the illicit fun of cooking pies unsupervised and wolfing them down in secret.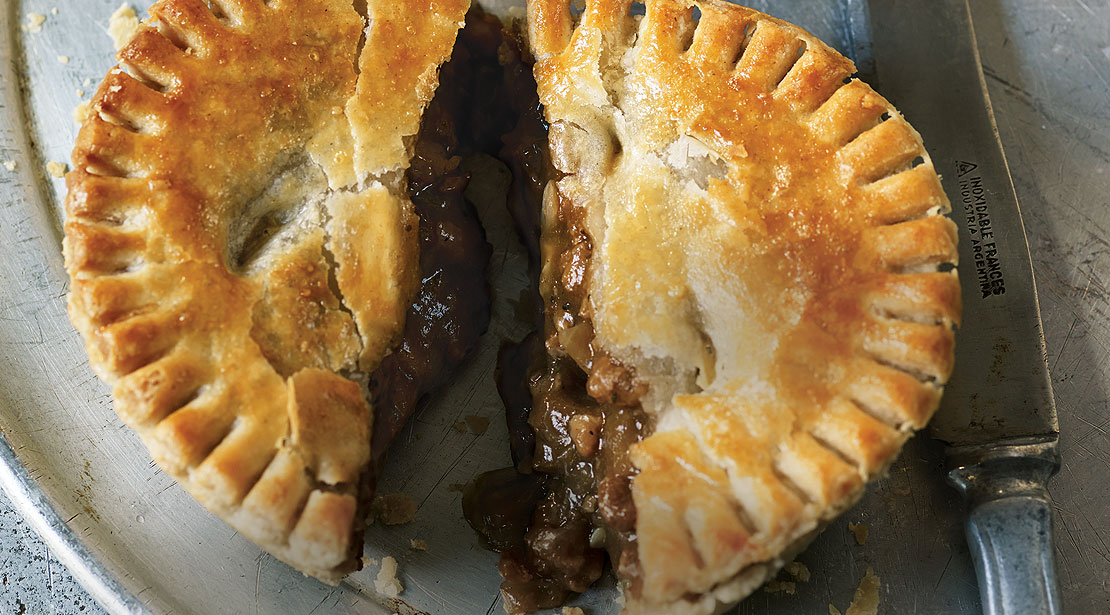 LM: Do you ever use food to set the scene in your own work?
My new book, Sistersong, set in magical ancient Britain, actually uses a lack of food to set the scene. For example, at Beltane, in May, they celebrate the coming summer by eating the first strawberries, but it quickly becomes apparent that ominous weather will lead to a terrible harvest. In an isolated, tribal community, such as the one where Sistersong is set, the success or failure of the harvest is life or death, bound up with the prosperity of the kingdom. In a time of famine, everyone starves, even the King's household.
On the other hand, the opening chapter of Starborn takes place inside a busy inn, filled with hot stews and pints of cider and ale, while rain pours down outside. I wanted to juxtapose the inclement weather with a deep sense of familiarity, comfort and security that will all too soon be threatened…
LM: No spoilers!
Lucy: Fine! I will say that inns in fantasy – and the food you find there – are tropes in their own right. Picture The Prancing Pony in The Lord of the Rings. Adventurers come in from the cold and sit by the fire with flagons of ale, a wheel of cheese, a hunk of dark bread and bowls of stew… "Unidentified Stew" is classic fantasy fare, and can range from delicious and savoury to downright disgusting.
LM: Time for some rapid fire questions! First, the eternal choice: chocolate or cheese?
Lucy: Cheese.
Tea or coffee?
Lucy: Aaaaah. Tea. For the varieties.
Potatoes, bread or rice?
Lucy: Bread.
Breakfast or Dinner?
Lucy: Breakfast. Brioche. Croissants. Muesli. Porridge with blueberries. Endless delights.
Favourite drink to relax with?
Lucy: Tough one. I'll say prosecco or a nice Provence rosé.
LM: If you cook, what's your favourite thing to make?
Lucy: Probably jambalaya with prawns and frankfurters. Or anything with smoked paprika!
So, there we are – I hope you're all now suitably hungry. You can check out Lucy's work at https://lucyhounsom.co.uk/ or follow her on Twitter and Instagram as @silvanhistorian or on Facebook at: https://www.facebook.com/lucyhounsom.
SISTERSONG will be published under the name Lucy Holland by Pan MacMillan in Spring 2021.
If you liked this post be sure to sign up to my newsletter which I send out on the last Friday of every month. Subscribers get first access to new and historic recipes, Q&As like the one above, historical research, offers, events, and original fiction.