June, 1928: "As soon as I lifted the tissue paper, I knew I had chosen well, for here it was: a suit of pale flannel, as unobtrusive as fine leather. A jacket with notched lapels, a single-breast waistcoat, wider cut trousers that hugged the waist. It all fit better than a dream, and when I looked into the mirror, I could scarcely believe what I saw. The pale brown of the suit contrasted with my black hair, the deep red of the tie was a splash of colour, just a hint of excitement. There was a straw hat to go with the suit, trimmed with a brown band. When I put it on, I had to blink hard to stop tears from falling on that perfect cloth. No one would have recognized me as the person I was before, the scruffy, frightened kitchen girl of the Hostería del Potro. Here was my new face. Here was freedom." – from An Echo of Scandal
Ever since writing about suits in the 1920s-set An Echo of Scandal, I've been more than a little obsessed with them: I'm not talking about uncomfortable businesswear that you can't wait to take off the minute you get in the door, I mean classic suits, the kind that – in decades past – were meant to be worn every day, smart yet comfortable in hard-wearing fabrics that look equally good while teaching a class or slouched at a bar.
So I started to search online. How hard could it be to find interesting and affordable suits for women, I thought? Well, as someone who's a petite/short 5ft 2″, takes a larger size trousers than top and has a limited budget (read: full-time novelist) pretty tricky, it turned out. A lot of the suits and co-ords in high street shops are either too corporate-looking or completely the wrong cut, often in polyester or other synthetic fabrics, which I'm not much of a fan of. Add to this the fact that for the last few years, I've been trying to cut down drastically on the amount of brand new clothes I buy, and I found myself in a bit of a quandry.
Luckily the internet is a wonderful place, and after many hours trawling I've found a few reliable places that are helping me feed my suit obsession. The following listings range from online vintage stores to brands that use sustainable practices. Since the whole point of a suit is that it's meant to last a long time, I've steered away from synthetics and towards fabrics like wool, linen and corduroy where possible.
L: Here's me at the launch for An Echo of Scandal, wearing the two-piece vintage wool suit I got for a steal for £40 on Etsy last year. I had the waistcoat altered to fit at the brilliant Jokoto Tailoring in Bristol, who did a fantastic job.
P.s. I have no affiliation with any of these companies; this is purely a selection of places I've either shopped at or browsed for my own clothes! I'll update this as and when I discover anything new.
Vintage
This online store is run by the amazing Raluca. She has a great eye for classy, smart vintage pieces, and frequently sells trousers, suits, blouses, shirts and blazers. All clothes arrive beautifully wrapped in plastic-free packaging. I bought a fantastic green three-piece combo from there last year.
Instragram: @d.autrefois
This eEbay shop sells good quality vintage men's suits at bargain prices. Mostly male tailoring, but could be an excellent place to look for a blazer or jacket. (Incidentally, I asked the tailor who altered my waistcoat for me, and she said it is definitely possible to alter men's suits for a better fit). Worth a look!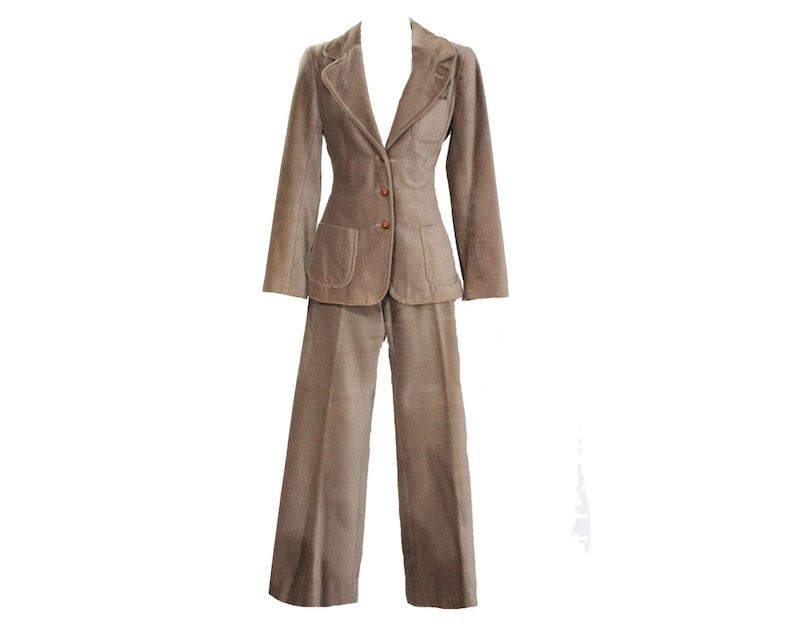 A long established, US-based Etsy shop, I've never bought from them before, but have been eyeing this brown 1970s corduroy suit for months. They usually have a good selection of suits, jackets and blazers, not to mention thousands of other items, with frequent sales.
A curated, minimalist vintage/retro shop. Last time I checked they had quite a few options when it came to suit trousers and blazers for decent prices.
One for people who love trawling Depop! if you look on my Pinterest, you'll see several amazing outfits from this store, curated by Alex in L.A. Worldwide shipping, and some amazing trousers.
New Clothes
Made in Paris, Admise was founded on a philosophy of timeless suits for women in a number of different styles of cut. They're on the pricier end of things, but they do have sales, so worth keeping an eye on if you are in the market for treating yourself. Clean lines and classic colours, you can mix and match jackets and trousers to get the style you want, e.g. peg leg or wide leg trousers with boxy, loose or fitted jackets.
43 RUE DE LA FOLIE MÉRICOURT – 75011 PARIS
Buy one thing and become obsessed. Lucy and Yak are known for their hyper-comfortable dungarees and boilersuits, as well as for having excellent eco-friendly and sustainable credentials. It's their organic cotton wide-leg jeans I want to talk about here though. I'm short, and had never found a pair of high-waisted jeans that suited me. Until Lucy and Yak. They're brilliant, with a flattering nipped-in waist and wide to tapered leg; sort of a 1930s cut. They're made from sturdy organic cotton twill and you can order them to waist and leg measurements. Honestly, I live in mine.
'Addison' High Waisted Organic Cotton Twill Jeans in Black – £55.00
Toast
Yes, Toast are not cheap, but they do have trousers that I lust after, usually in great quality, hard-wearing fabrics. It's worth keeping a beady eye on their sales. (Thanks to my friend Lidia for the tip off on this one!) They're also trying when it comes to their environmental impact; they run repair workshops across the UK, their paper packaging is fully recyclable and they've committed to eliminating all single-use plastic from their supply chain by 2022. I've been eyeing these olive cotton linen trousers for a while now.
Jude Cotton Linen Trousers in Olive – £165
For more suit inspiration check out my Pinterest.